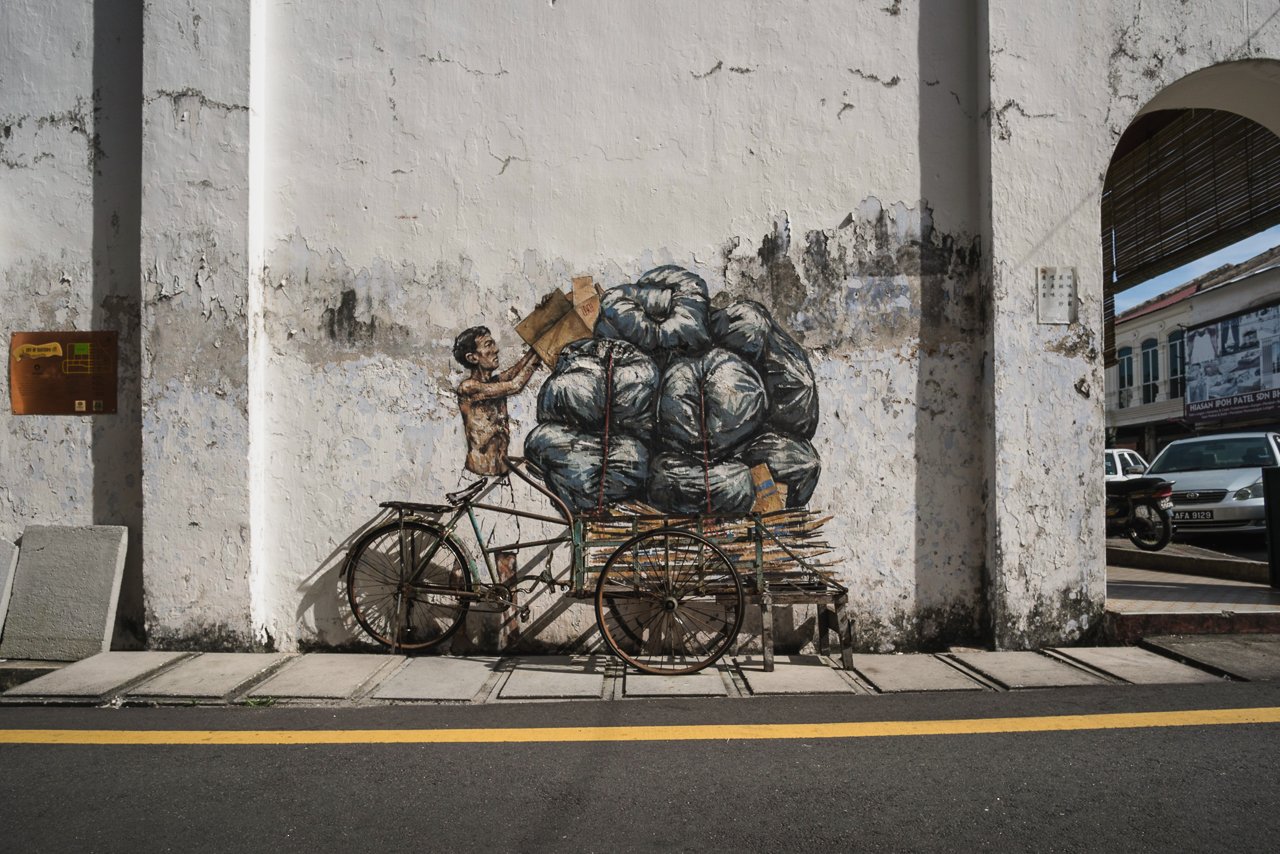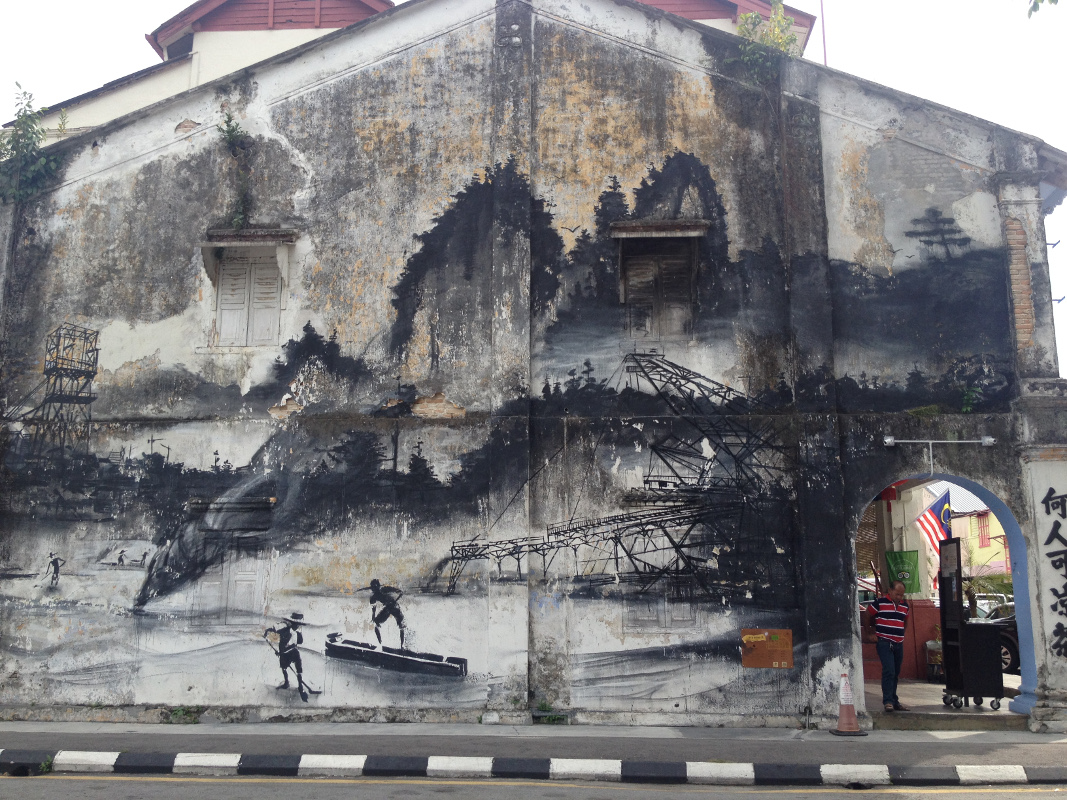 Having tracked down seven of the eight pieces of street art, this one eluded us for some time. Until I worked out we were in exactly the right place, only to realise that the mural had been painted over. I later found out that we'd missed it by only a few weeks. Source: Ernest Zacharevic accepts removal of mural in Ipoh.
All that was left to identify the site of the mural was a few small holes in the wall where the metal birdcage had been attached, and the ventilation openings on the side of the building which obviously had been there all along, but which had been incorporated into the mural. The caged birds are already quite faded in this photo.
INSPIRED BY THE STREET ART IN IPOH? WHY NOT SAVE IT TO A PINTEREST BOARD…
This is by far the smallest mural in Ipoh and one that initially we couldn't locate. But one evening, I spotted it quite by chance, directly opposite our sidewalk table, at a restaurant where we were enjoying roasted duck and boiled rice, a speciality of Ipoh.
In 2012, Lithuanian street artist Ernest Zacharevic, then largely unknown, changed the face of George Town. Back then, it was a town with no public art or graffiti. Today street art is almost as synonymous with Penang as street food is. Zacharevic's murals are so much a part of George Town that in late 2016 he secretly returned to Penang to touch up his fading pieces of art.
By the time we reached Ipoh, it felt like everywhere we'd stopped in Malaysia had been a revelation when it came to street art.
Other posts you might like…Where to break the journey between Singapore and Penang, MalaysiaStreet Art in Kep | CambodiaStreet Art in Phnom Penh: Boeung Kak's Street 93 | CambodiaStreet Art in Hua Hin, ThailandStreet Art in George Town, PenangAmy Winehouse Street Art Trail in Camden | London
I was more than satisfied with the street art we'd seen in Ipoh's old town but then we crossed the bridge to the new town to visit Panglima Kinta mosque. As we turned down the lane that led to the mosque, we found ourselves surrounded by wall to wall street art! Mark was just ahead of me so I couldn't see his eyeballs roll.
As you can see, many of Ernest Zacharevic's Ipoh works have become a bit weathered over the years. Maybe he'll be back to Ipoh too, one day…
Paper Plane Old Uncle Drinking Coffee Hummingbird 'Kopi' Break
READ MORE POSTS FEATURING STREET ART AROUND THE WORLD SEE MORE OF OUR PHOTOGRAPHS OF MALAYSIA USEFUL LINKS:
ARE YOU PLANNING A TRIP TO IPOH? YOU MIGHT LIKE TO CHECK OUT OUR POST: WHERE TO BREAK THE JOURNEY BETWEEN SINGAPORE AND PENANG.
Ipoh used to be an important tin mining town and this piece is a nod to that time in history.
Since Ernest's visit, Ipoh has well and truly caught the street art bug and we found plenty of street art by other artists, many of them local to Ipoh, all over the old town. Here are some of the best pieces…
Looking for more information? Check out Lonely Planet's Malaysia, Singapore and Brunei Travel Guide – They also currently have an awesome 3 for 2 offer, so if you're planning a big trip… get shopping!
It really shouldn't have been. After all, George Town in Penang is known as the street art capital of Asia. And witnessing what street art has done for Penang's tourism, it's not surprising that other towns and cities across the country want in on the action. Or the attraction. Street art tourism is on the up.
by Kirsty | Dec 12, 2017 | Malaysia, Street Art | 5 comments
Numbers one and two on the map are adjacent to the Information Centre and, partly due to their scale, were easy to spot. Whilst the map wasn't needed for finding and identifying these murals, named 'Paper Plane' and 'Old Uncle Drinking Coffee', things got a little trickier from that point. The Mural Art Trail leaflet also contains photos with names of seven pieces of street art (versus the nine on the map) but it doesn't link them to the numbered coordinates or places on the map. This doesn't make it very user-friendly, but luckily Ipoh Old Town covers a small area and we were able to find six of Zacharevic's pieces by just wandering around. Two of them were slightly more elusive, one for reasons that I'll explain later. After we'd left Ipoh, I found this article from the Tourism Board of Ipoh which helps a bit more in matching names and places, but it's certainly not as useful as it could be. I've therefore created my own Google map which you'll find further down the post.
Many of the murals here were painted by Eric Lai, a local art teacher who initiated the project after being inspired by Ernest Zacharevic's art.
Mural Arts Lane is the alleyway between Jalan Masjid and Jalan Sultan Iskandar (formerly Hugh Low Street), and I've marked it on the map below. Remember not to get so distracted by the street art that you forget to visit the mosque!
I'm reluctant to admit it, but there was almost too much street art to photograph on this small alleyway. Here's a fraction of it…
Thank you for subscribing! Please confirm via the link in your inbox, in order to complete the subscription process.
In 2014, Ernest Zacharevic headed to Ipoh, the state capital of Perak, to weave the same magic; he took a month to paint eight murals in Ipoh Old Town, in a collaboration with local chain Old Town Coffee (hence the reason many of the murals have coffee-based themes). Eager to track down his paintings, one of the first things we did when we arrived in Ipoh was visit the Tourist Information Centre and pick up their leaflet: Ipoh Mural Art Trail. The map marked nine locations along with GPS coordinates.
If there's one thing that will lure me to a city, it's the promise of exceptional street art. We had pinpointed Ipoh as a potential place to break our journey between Singapore and Hat Yai and as I researched what to see in Ipoh, street art kept coming up. And so, Ipoh was firmly on the agenda.
It's typical in Malaysia, and across South East Asia, that when you buy an iced coffee from a street vendor, it comes in a small plastic bag, tied at the neck, with a straw poking out, like the ones depicted here.
Seemingly not content with its huge amount of outdoor street art, Ipoh has a growing number of indoor street art galleries. In some cases, it appeared to be a clever attempt at attracting tourists inside what is effectively a coffee shop selling souvenirs, but not so with Wisma Chye Hin. Promoting itself as Ipoh's first and largest indoor mural arts experience, the building's internal staircase is covered in colourful art over four floors. At the time of our visit, the only obvious tenant of this newly renovated building was the Concubine Lane Museum but the plan is to fill the space with shops, restaurants and cafes. Wisma Chye Hin is definitely worth a look…
Trishaw, like many of his better-known murals in Penang, is 3D interactive and has a rickshaw frame mounted to the wall. Depicting a hard-working Ipoh local, it's also known as 'Street Art is Rubbish'.
There are several types of wall art that you should utilize to decorate numerous parts of your house. There are artworks painted on canvas and a few which are printed on paper or fabric. Some are framed whereas others are not. Relying on your house design some could also be extra appropriate than others.
Steel Artwork - Metal art can include antique items or new artworks manufactured from metal. This kind of art may be appropriate for varied types of homes , from conventional houses to trendy minimalist urban condos. Steel art can appear to be a typical squarish piece of art work on canvas or look more like wrought iron designs. These are a bit heavy and will want more sturdy support to carry them up on a wall. They will have a southern Texan aptitude or look extremely trendy depending on the design.
Wall Decals - Kids will like colorful wall decals product of stickers in their bed room or playroom. These are sensible in case your children are younger since you can easily take away the stickers and exchange them with other designs. Some wall decals look subtle sufficient for the living room or master `s bedroom. In case you hire an apartment, these sticker art are perfect because you won`t should bore holes on the wall and may easily take away them when it is time to move out.
Work - Paintings are classic art pieces. They are often summary in type or look traditional. There are a lot of several types of paintings you can select from to search out a perfect subject , size and medium that may go with your property design and furnishings style. Some canvas wall art can be framed or hung unframed if mounted on gallery wrapped canvas.
Tapestries - Tapestries are painted or printed on cloth from Africa or Asia. Tapestries add an outdated world aptitude to a home. This kind of wall decoration is usually forgotten as an art kind but appears to be benefiting from a comeback. There are reproductions or commercial kinds of tapestries and unique hand painted tapestries made by indigenous people from numerous countries. They can be made by fashionable abstract artists to go together with trendy dwelling designs.
Mirrors - Mirrors do not just make a room look much larger but can also be thought of artistic if mounted on an ornamental frame. The frames may be fabricated from elaborate wood carvings or modern metals. Some frames are made from wooden and made to appear like metal like silver, gold or bronze. These sorts of wall art look good in residing rooms, dining rooms and on the end of a hallway. Use such a wall decor if you want to make your rooms look larger.
Artwork Prints - Artwork prints are images printed on canvas. Massive -scales items are very enticing and up to date looking. You can get these ready - made out of art shops in any dimension you want. The images are taken by skilled photographers who take photos from varied areas across the world. The photographs can present landscapes, seascapes, or portray culture and food. Some photos depict animals and city skylines.
No matter what kind of wall art you select to hang in your home. You should definitely get one that you just enjoy looking at. Before buying wall decor, ensure that that the scale is ideal for your wall space. Be aware of colours across the room and get artwork that accommodates some of those colors. Avoid hanging artwork with the same colour as your wall to make the artwork stand out.
IMAGE COLLECTIONS : Mural Art Lane Ipoh